Marvellous Marvel cleans up at the Vice Admiral's Cup
by Joe Llewellyn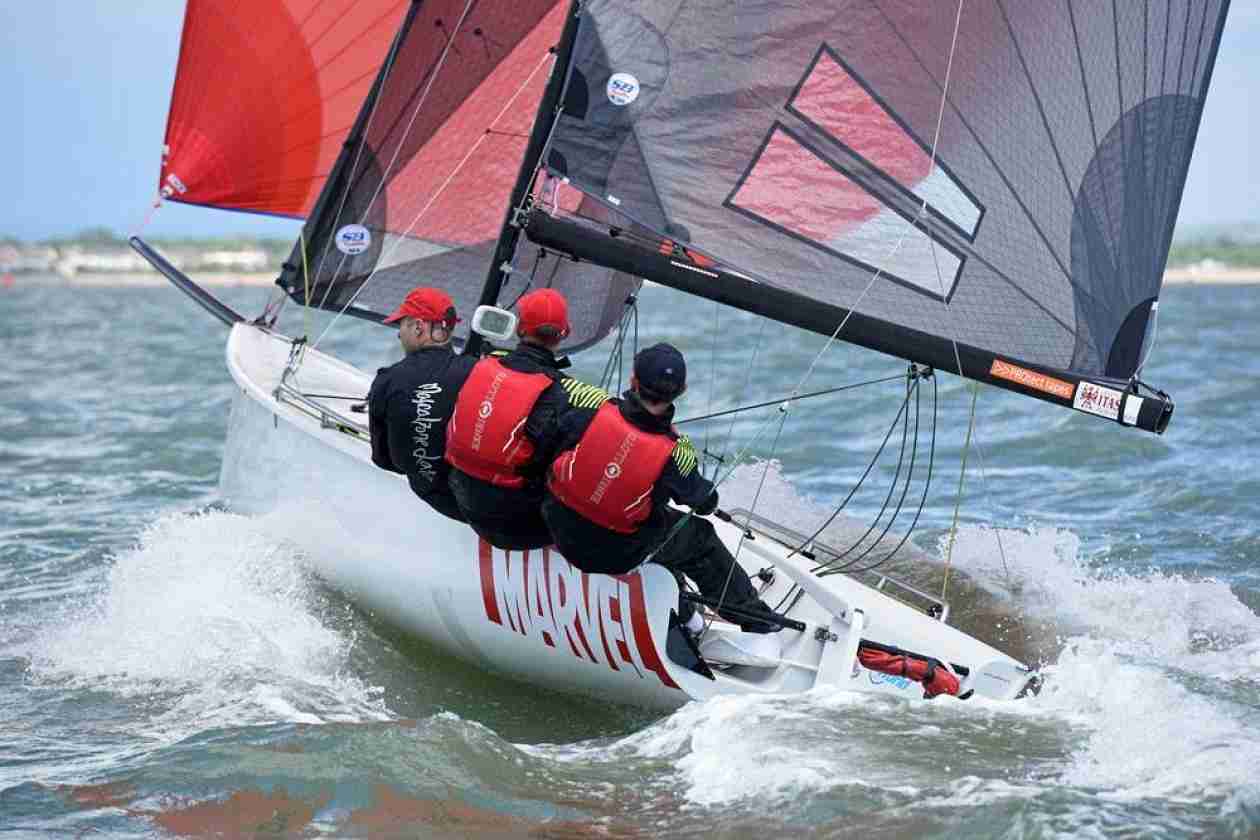 RORC's Vice Admirals Cup is now in its 13th year having been originally run by the former Royal Corinthian Yacht Club. It is a three-day, 8 race, inshore, one-design event and RORC invited classes (SB20, Fast 40, Diam24, Quarter Tonner, Impala, J/111, and J/109) this year. It has long been a regular part of the SB20 calendar. With the SB20 World Championship's in Cowes later this year several boats intended to use this as a warm up event. Racing took place in the same sailing area as both the Nationals and Worlds will be later in the summer. The event is also part of the 2017 SB20 Class Solent Series.
Day 1s, forecast was for steady winds 11-15 knots, SB20s were second start. With tide setting across the Hill Head Plateau it paid to go right up the course for most of the day. Race 1 was a round the cans triangle sausage course. Jerry Hill's Sportsboat World hit the windward mark in first place with Richard Powell's Marvel inches behind. Aussie boat, Export Roo, sailed by Mark Chapman followed in third and just behind then Arada Stoves New Hope (Innes). The first 4 boats sailed the rest of the race in those positions with Sail Navy and 6A Vision Homes swopping places several times for 5th and 6th. At the front Sportsboat World was pushed hard by Marvel but Hill just managed to hold his position to the finish
The rest of the event was straight 2-lap windward leeward courses (requested by the class). The wind built a little in race 2, with boats planning for some of the second downwind leg. Export Roo took an easy first, Marvel another second and Here Comes Bod (Charlie Whelan) 3rd. Sportsboat World were set for a 4th but after a navigational error, gave it away to Arada Stoves-New Hope who scored their second 4th of the day. Sportsboat World having thought they had finished realised their mistake sailed back to the last mark to unwind themselves and finished correctly in 8th place.
Going into Race 3 the wind had built further and most teams were winding up their rigs, pre start. Marvel scored her first bullet, followed by Export Roo and Sportsboat World in 3rd. Arada Stoves New Hope bagged another 4th. Royal Navy and Vision Homes fought it out for 5th and 6th, while Wavelength finished in 7th ahead of Here Comes Bod. Royal Navy broke a spreader bar at the end of the day, however with the help of Sportsboat World managed to replace it by day 3.
At the end of day 1, no one had a strong lead, although 2 boats were emerging. Day 2 was forecast for a few more knots of breeze and the race officer moved the course area slightly to allow for a different wind direction. Racing ran smoothly, Marvel scored three bullets, Sportsboat World two 2nds and a third. It was a breezy day with several boats recording max speeds of 18 knots. 6A Vision Homes broke another spreader bar and again Sportsboat World came to the rescue that evening to ensure the team could race on Day 3. By the end of race 6 (day 2) several boats had retired and only 5 were left on the racecourse.
As day 3 dawned and the only discard would kick in, Marvel was in the lead but an overall win was still achievable for three boats. A final podium position was a possible outcome for 5 teams. Having carried out repairs the full fleet was back out for day 3, with ligher SE winds forecast. Marvel and Sportsboat World each scored a bullet and a second. Arada Stoves New Hope was certainly consistent scoring their seventh 4th, however she lost her halyard shackle on the start line for race 8 and head home, leaving, Here Comes Bod, to take her 4th while Export Roo scored third.
The event saw some close racing and several of the teams gathered in Hamble Point's Ketch Rigger after racing each day for a drink.
Final Results
Marvel
Sportsboat World
Export Roo